It is winter time again - and dogs need to feel warm and cosy. Just like humans need protection from the cold weather, dogs too need to wear winter clothing to keep themselves warm and comfortable. If you are hearing 'dog winter clothing' for the first time, you may be surprised. However, dog owners have seen their dogs shiver with cold and suffer from hypothermia.
If you're a dog owner too, you should definitely take the specific needs of your dog to stay away from the bad effects of the winter season. Whether it is about housing your dog or taking them out, you need to ensure they feel comfortable throughout the winter season. Dressing your dog up in a sweater or jacket should be enough for your dog to stay protected from the cold. The best thing about dressing up your dog for winters is that it makes them look adorable too. Thankfully, the range of winter clothing is huge and you can choose as you please.
Winter Clothing for Dogs is the Hottest Trend!
It is a lot of fun to see your dogs in warm, stylish winter clothes. You must have seen dogs dressed up with winter coats and jackets on social media. Pet owners all across the world are getting used to the wonderful idea of dressing up their dogs in attractive clothing for the chilly winters.
Dog clothes come in a wide variety of styles, colors and sizes. Whether your dog is a small puppy or a large one, you can choose from an array of designer dog clothes, dog sweater, dog winter coats, dog pajamas, dog snowsuits etc. If you are located in a geographical area which experiences harsh winters, these types of clothing will serve your dog really well - particularly when you take him or her out. In fact, the dog will not be reluctant to go out for a walk or to play. Above all, you'll have peace of mind thinking that your dog will not get wet or cold because he or she will be properly dressed for the winter season and the snow.
Getting dog winter clothing is an excellent way to ensure your dog stays fit and healthy during the entire winter season.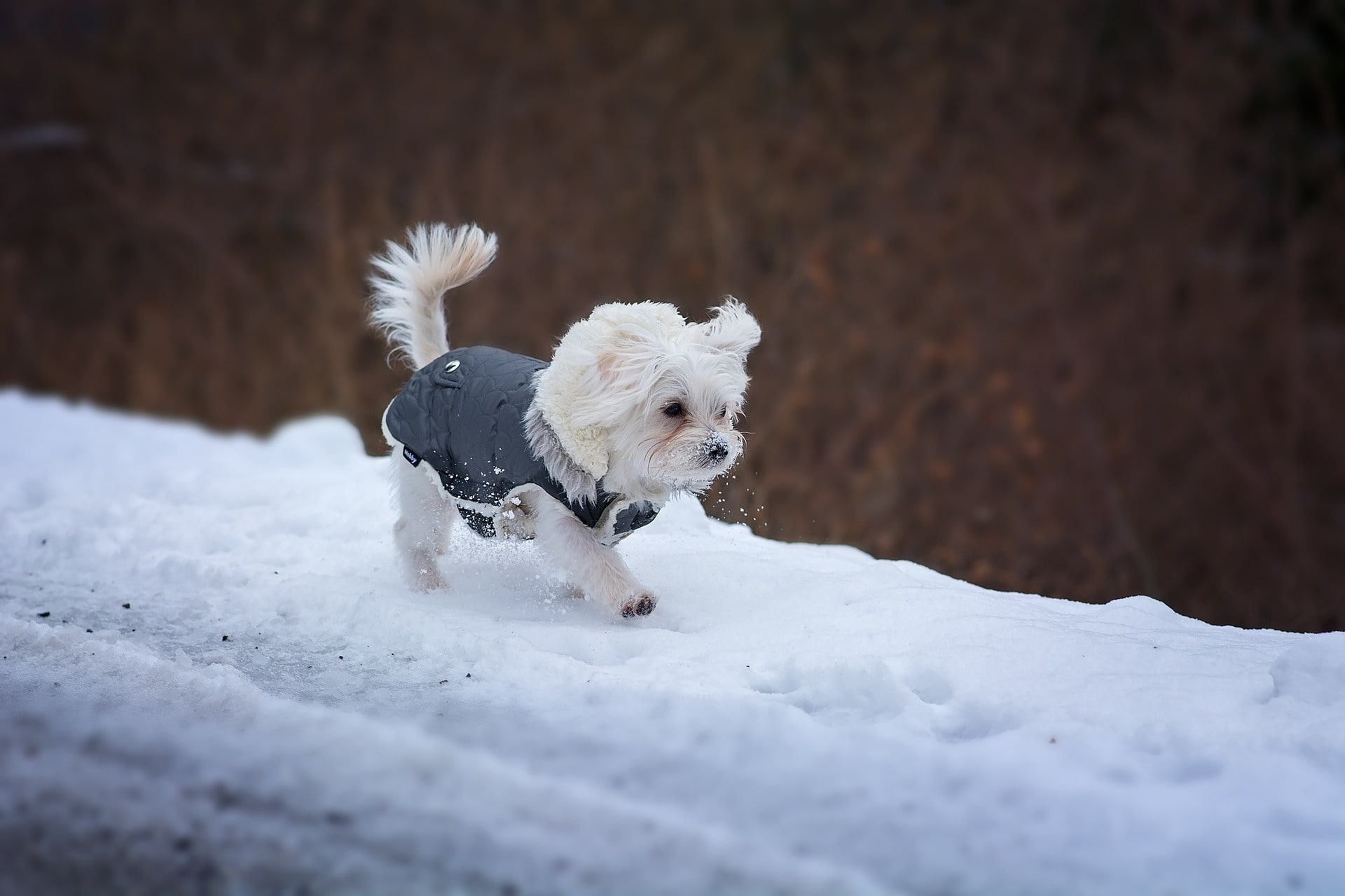 Do All Dogs Need to Wear Winter Coats?
Lack of knowledge in regard to dog winter clothes has led to multiple myths. If you are a responsible dog owner, you should always remain aware of the facts and disregard the myths and misconceptions.
Not all dogs need to wear winter coats and jackets. Whether or not you should dress up your dog in cold season clothes depends on what breed he or she is. Most bigger breeds or larger dogs don't need these clothes. But winter clothing is ideal for short-hair breeders, senior dogs, puppies etc. Dogs that suffer from an illness also need protection from the cold weather.
Also, it is wrong to entirely rule out winter clothes for larger dogs. Even in large-size dogs, there are some breeds that can benefit from wearing winter coats and sweaters. So, the idea is to assess the needs of your dog.
At first, some dogs may not like wearing winter clothes. Many dogs get used to this habit of wearing winter coats and jackets quickly while others may take more time to get accustomed to the same. If you want to dress up your dog for protection against the cold weather, you should first try this at home. If your dog is fine with the dressing up, you have nothing to worry about. Then, you can easily dress your dog up every time you take them out for a walk in winter. In any case, make sure the dress you buy fits your dog snuggly. If the winter clothing doesn't irritate the dog at all, they are going to like to wear it all throughout the season.
How to Measure Your Dog
Before you get your dog warm clothing for winter, you should remember to take your dog's measurement. Since dog clothes and pajamas are available in multiple sizes, you need to pick the right size.
It is a good idea to take your dog to a puppy boutique to try on the clothing right there. Or else, you can first measure your dog and then purchase the clothing items from an online or offline store. If you are ordering designer dog clothes, the boutique store may not take them back. So, remember to measure your dog in an appropriate manner to avoid any kind of future discrepancies.
You need to take two measurements - the length of your dog and the breadth of your dog's chest. Make your dog stand up. Now, use a measuring tape and measure the length from the base of the dog's neck to the base of the tail. When designing winter clothes for dogs, most boutiques use this type of measurement. Next, measure the chest of your dog. Keep these measurements with you when you head out to a dog clothing store. Using both the length and the breadth of the chest ensures a perfect fit for your dog's winter clothes.
Tips to Choose the Right Winter Clothing for Your Dog
Dog clothes are made from a variety of material. When you are buying clothes to keep your dog warm in cold weather, you should definitely check out the material. How warm your dog will feel depends on what type or quality of material the clothing is made from. If your dog is small and doesn't have thick, dense hair, you should choose clothes that are made of thick, warm material.
You'll find dog winter coats which have thermal insulation to give protection against the chilly winds of the winter season.
It is crucial to find out whether you need winter clothes with insulation. While it is a good idea to buy dog sweaters, dog jackets, dog pajamas and other woollen clothes, you should never ignore the kind of insulation each of these come along with. After all, the purpose of the dress is to provide warmth to the dog and keep him or her protected from frostbites and hypothermia.
For dogs that like to go out and plan in the snow, waterproof winter clothing is the ideal option. Cold season clothing made from waterproof material will keep your dog from getting wet while playing in snow.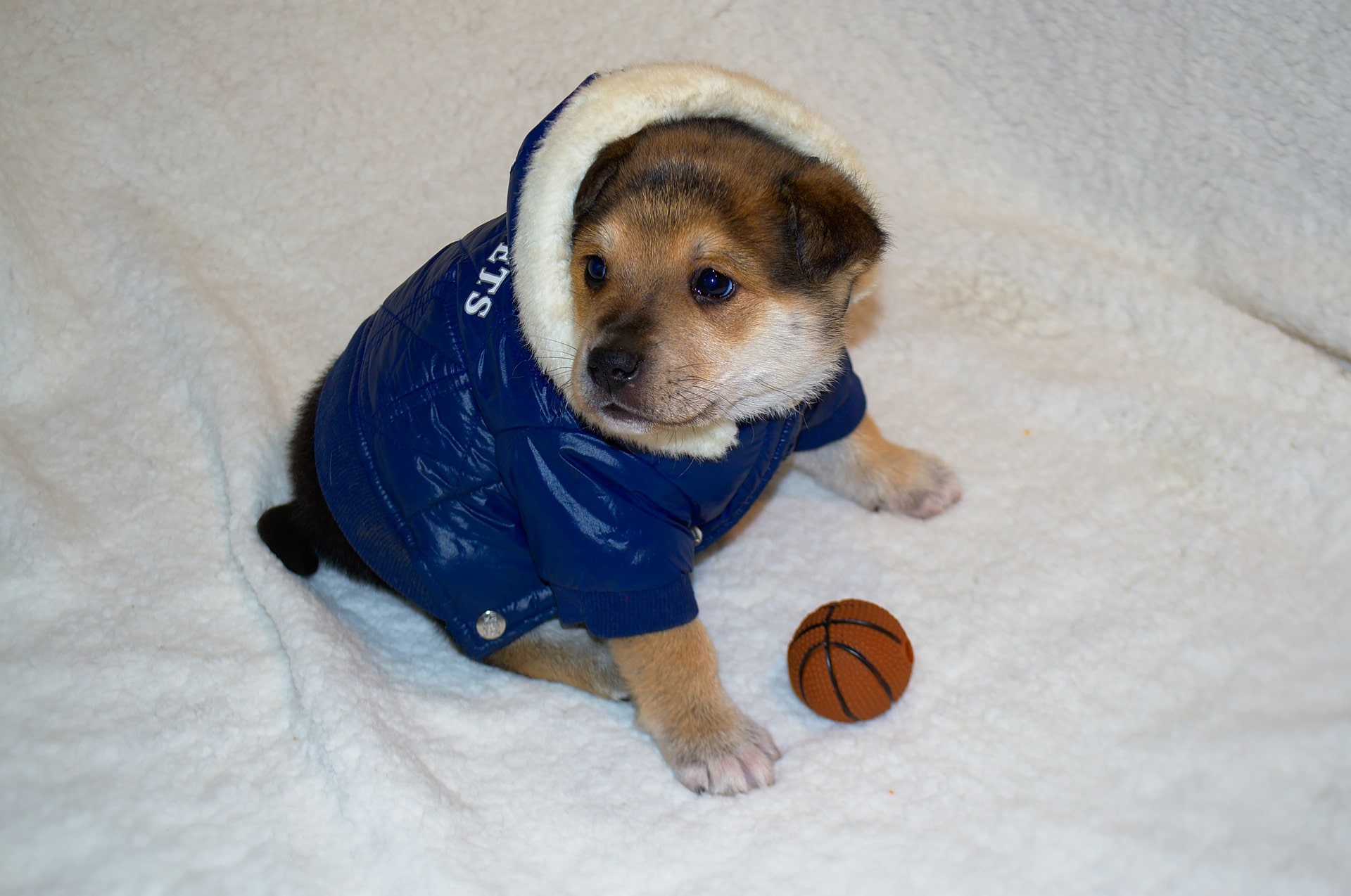 Are You Looking for Best Winter Clothes for Your Dog?
From dog sweaters and dog jackets to dog coats and pajamas, there is no dearth of cool dog clothes and stylish winter clothing.
At Rockstar Puppy, we bring you an attractive range of designer dog clothes, small dog clothes and puppy clothes. Our boutique is a one-stop destination for buying all kinds of dog winter clothes. Browse through our unique collection of smart winter clothing and get ready to dress up your dog for a cool, attractive look. Our manufacturing and design unit is located in Pennsylvania. But you can order the clothing items from just anywhere in the United States.
If you're looking for more information or have some questions, feel free to send us an email or reach our puppy boutique via phone. In any case, don't forget to subscribe to our newsletter for new arrivals.